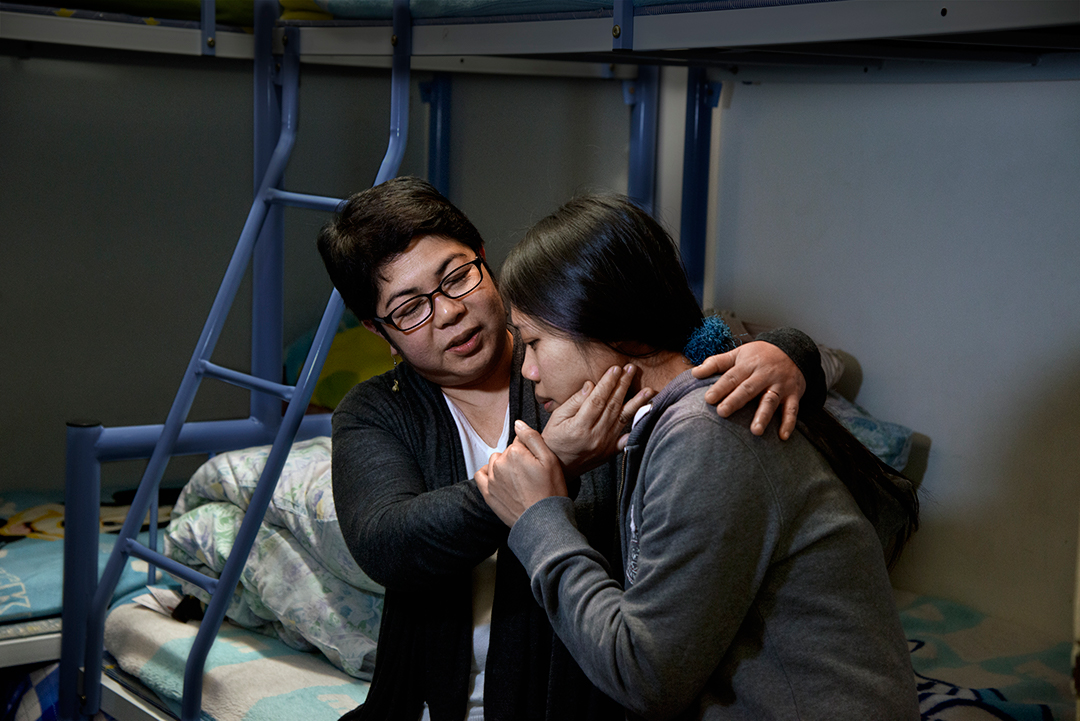 It was Edwina's husband who first came to Hong Kong to help Filipino domestic workers in distress at the Mission for Case Workers walk-in centre. She and their son followed from the Philippines in 1989, just as the Bethune House Migrant Women's Refuge in Kowloon was looking for a manager. Her university studies were in industrial pharmacy but her father had worked overseas when she was a child. The shelter opportunity spoke to issues close to her heart. She has been the shelter's manager ever since. The Mission and Bethune House provide counselling, skills training (cooking, English, swimming, self-defence), shelter and empowerment. Over the two decades of her work handling complicated legal cases, Edwina has seen little change in the problems. Both the two-week rule to find a new employer once a contract is terminated and the no live-out arrangement continue to place migrant workers in a vulnerable situation. The three recent brutal cases involving Indonesian domestic workers—Kartika, Erwiana and Anis—she says prove that the government policies are not working and not protecting the rights of migrant domestic workers by pushing them into very vulnerable corners. She also says there other practices that are helping better protect domestic workers, such as the Thai Consulate's policy of making random checks on its citizens with contracts for domestic work in Hong Kong.
***
"The reason the domestic workers come here is because of poverty. They have so many debts in their country. It's a put-up-or-go-home situation here. If they refuse an employer, it means termination of their contract. They sleep in the toilet room or eat one cup of noodles or a slice of bread all day. Or they eat congee in the morning, noodles at lunch and congee in the evening—every day. Somebody has to endure that because she is in debt. She suffers from malnutrition hepatitis because of it. What I see with great frequency that disturbs me are the long working hours, 16 –18 hours on average. Most but not all work only six days a week. Many of the Indonesians and Sri Lankans are only given two days in a month.
"The mere presence of a shelter gives these women a safe place and a place to get justice form their abusive situation. It makes a lot of difference. They have a safe place to stay and can pursue their cases. Improve their skills. Our services are empowering. We want them to do something to change their situations. It's not just charity. We train them in skills they can use. Even their case will teach them a lesson—what are the don'ts when you are working overseas. That's one of the contributions we have given them.
"The government recognizes that migrant workers contribute to the economy but when it comes to rights, it's different. It is demand and supply. Domestic workers are just cheap labour. The local women will not stay in to work as a domestic helper an average of 16 hours a day on call. They need that cheap labour. They are people. They need a job. They do everything for the employers. The government should protect them. They are workers, they have rights. They should be treated as workers, not slaves. They are entitled to same rights as all workers."
There are those who don't have a room suitable for a domestic worker—the government can actually check that. According to the Labour Office of the Thai Consulate, the staff used to randomly go to the house of employers to check whether they had a proper room. If each consulate would check and monitor somehow, that would help.