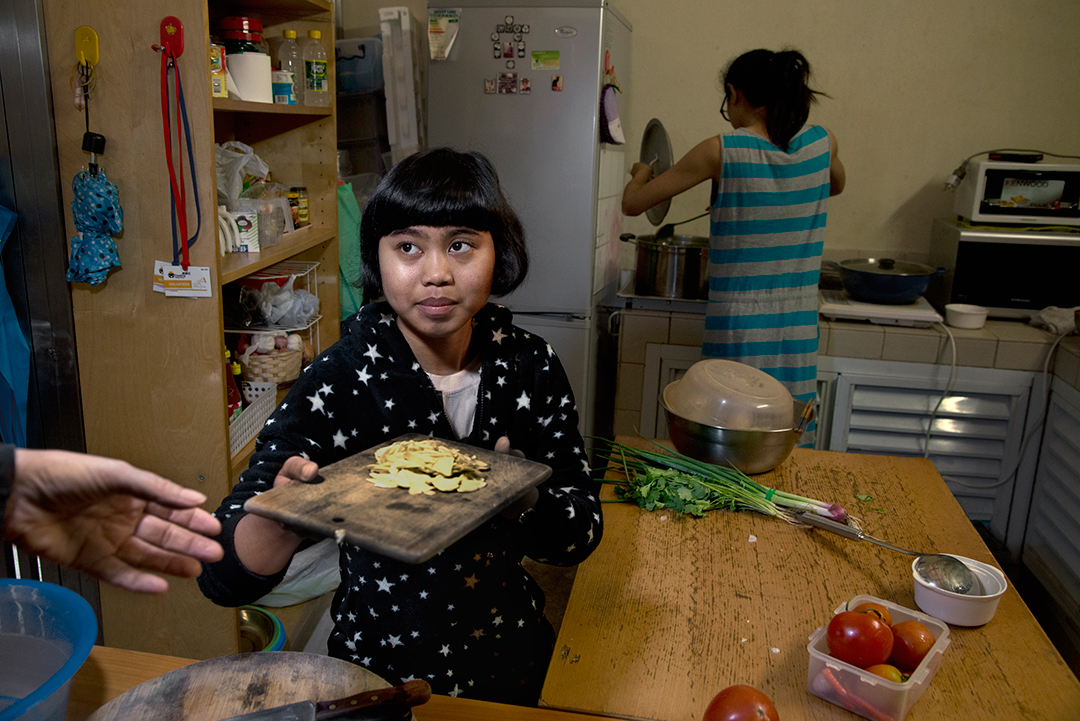 When Wati was much younger, her parents sold their home in Indonesia to pay for her mother's medical care after she was diagnosed with leukaemia. During primary school, Wati began working part-time as a domestic helper near her school to help the family. She soon dropped out to work full time. At 23 she left for a two-year job in Singapore. When she returned home, her parents pushed her to marry. But after she married, a sister needed money to continue her studies. Her father fell ill and the family had no funds for his medicine. Two other sisters were working in Hong Kong as domestic helpers. Wati decided to join them. At the training centre she was told if anything problematic occurred she was to call the agent either in Indonesia or in Hong Kong. When she did call, no one came.
She left her employer, who worked for the Immigration Department, after the security guard at the apartment building called the police when he saw the bruises on her face. She had endured repeated slaps and difficulties because she was frightened of being sent home with no earnings. But a friend who also worked as a maid in the building tricked her to coming out of the house to the guards' desk, where they then called the police. The previous evening, Wati had been made to stand for hours in the kitchen because she had not turned off the air conditioner in the employer's bedroom and had been slapped because she didn't know the Cantonese word for 'bag'. She was later assaulted with a box she had left in the kitchen. She is currently living in a shelter while the police investigate her case.
***
"The agent was not at the airport when I arrived. I slept in a chair through the night, until someone arrived the next afternoon. She took me to the employer's home. She worked as an Immigration officer. I was to clean and take care of her mother. The next day the mother took me back to the agency. She said I don't know how to work or talk Cantonese. The mother talks to me but I don't understand her so I speak to her in English and then she gets angry with me.
I waited ten days in the agency for another contract. There were other workers there with problems. They had their contracts terminated. But they didn't get their salary or a ticket home. I started to get scared. I met a worker who broke her contract to go home to marry. I was crying and crying. I was so scared I would be terminated and sent back to Indonesia. The other worker worried about me and said, 'Here take my phone. If you have a problem you can use it to call someone for help.' After waiting, I went back to the same employer's house.
"My main duty was to take care of the mother but she didn't like me. She didn't like how I cleaned. She kept telling me to repeat the work I had done. One day she hit me on the shoulder. I don't know what to do. I wanted to call the police but I have no phone credit. I sent a message to a friend to call my agency. The agent called the employer and explained what happened at home. At that time, the employer didn't say anything to me about it. Days later she got angry at me and then said, 'Whatever happens at home, don't tell anybody—your friends or the agent. You just tell me.'
"My employer had two houses. At first I slept in the grandmother's room, separated with a sheet. She had a second house and moved me there with my own room after the first month and told me they were moving to that house later on. I woke at 6 a.m. and went to grandma house at 7 a.m. and then go to sleep at 10 p.m. In the mornings I work in grandma's house and in the afternoons I have to clean the house where I slept. In the evenings I went back to the grandma house to cook her dinner."
Slapped for not knowing Cantonese for fish
"Around one month after I arrived, the employer started hitting me. She asked me what is the word for 'fish' in Cantonese and I don't know and so she slapped me. We had just come back from the grandmother's house. She left the key in the door and I wanted to take it so she doesn't forget it and then she slapped me again. She hit me many times, slapping me, pulling my hair.
"Eventually I called the agent to say I wanted to break the contract because of the hitting and the agent said she is a good employer and had never heard of her being abusive."
Forced to stand for hours in the kitchen
"Two months after I started working there we moved their things into the new house. I had to move things all day. Around 11 p.m. she went to the grandmother's house and passed me on the way. I was bringing a glass cabinet and moved slowly. When she came back to the new house, she found the air conditioner on in her room but the lights off. She started hitting me for that. Then she asked me to stand in the kitchen. I stood there until 3 a.m. Sometime during that time she came and asked me the Cantonese word for 'bag'. She got so angry when I didn't know and then slapped me so many times. She pulled my hair. Then she put her hands on my neck and choked me. Around 3 a.m., she came back and pulled on my ears. She said it's long enough and told me to go take a bath. I went to my room and my body was full of pain. I went to sleep. My face was really hurting. My body was very tired from moving things. I woke at 7 a.m. and went to the grandmother's house as usual.
"During the night while standing, I had sent an SMS to the agent. I wrote, 'I kept calling and no one answered. Please help me. My employer is hitting me. Please help me, sister. Why you don't pick up the phone? Why you don't answer? You said you want to help me. The agent called the employer's phone. She asked her to give the phone to me. The employer squeezed my mouth to remind me not to talk. She said don't tell anybody what has happened. After I hung up she slapped me and then said if I want to leave I can. I said I don't want to work with you anymore.
"She said, 'Okay if you don't want to work with me. Pack your things and go to the agent now.' It was my salary day. I asked for it, but she wouldn't pay me. She said, 'You are the one who doesn't want to work so I don't have to pay you. You have to pay me.' Then she said, 'You have to sweep and mop the floor and clean the kitchen. After that pack your things and I will send you back the agent.'
"I was cleaning in the kitchen. Beside the fridge there was a box. The employer asked me why the box is here and got angry and slapped me many times and kicked me. Then she got the box and threw it at me. She kicked the box and hit me and then hit me with the box.
"I went to throw some rubbish and I called my friend in the building. She wanted me to call the police. I said, no, it's okay. Every day is like this and so it's okay.' She said she wanted to see that I was alright and told me to go to the apartment security office. The guard called the police.
"I had to leave—I just thought the employer will only get worse. Anything in her hand she would hit me with. She used her handbag and kept hitting me with it. She hit me with a glass plate though the plate didn't break but my lips were bleeding. She asked me to open my mouth and she pushed a meat knife into my mouth. It didn't cut but it hurt so much."
"The full salary was HK$3,920 per month, but I was to pay HK$2,542 a month for the agency fee for six months. I worked there only two months but was paid for only one month."