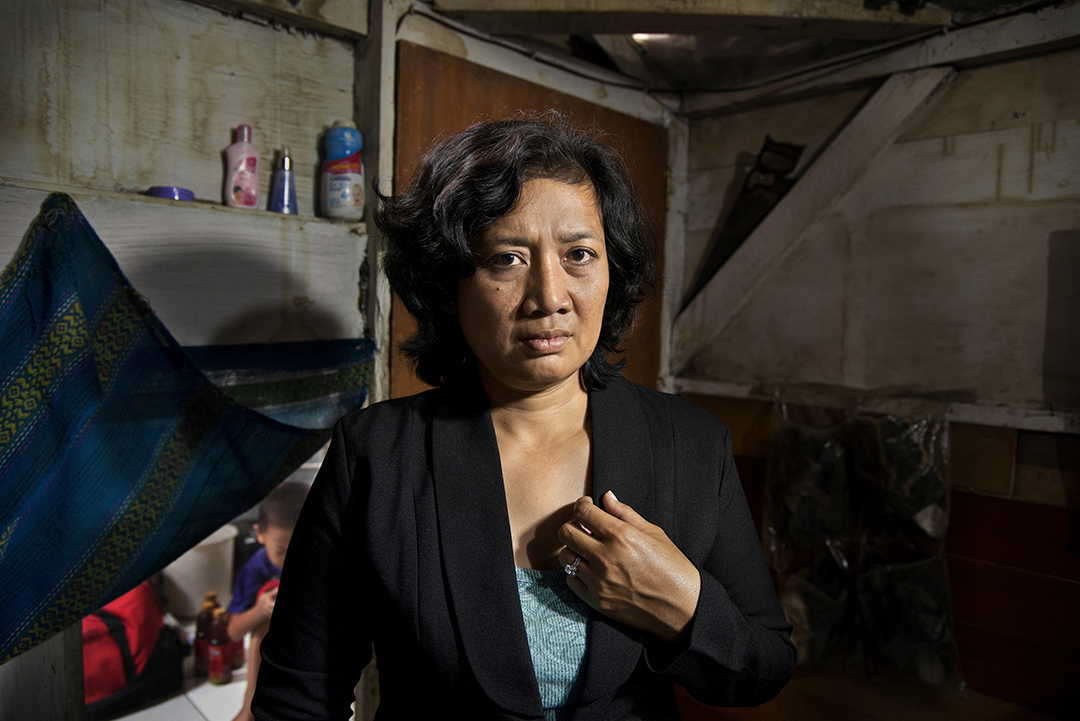 A friend asked Saadah if she wanted to work in London as a maid. A Saudi diplomat stationed in Jakarta was to shift to London in 2010 and wanted to take along a domestic worker from Indonesia. She had worked abroad once before, in a tailoring shop in Kuwait. Saadah had married at 13 in an arranged marriage and was now a single parent with two children in elementary school and two in vocational school, struggling on her own to pay the fees. She was prepared to work long hours, and the promised salary was significant. The stories of domestic workers' troubles she had heard involved working in the Middle East. She thought she would be safe working in London.
And she was, although only a portion of her salary was paid via a transfer to her children after several months. After two years, the family moved back to Jeddah and forced Saadah to go with them. She was afraid she would never be paid. When she asked for the balance of her salary and to leave, the diplomat and his two brothers locked her in a room and asked her to sign a receipt for full payment with her thumbprint. The diplomat slapped her several times when she refused. He told her the uniform, the shelter and the food she was given and the bit already paid was sufficient. The three of them attacked her and knocked her down. One sat on her lap while another forced her thumbprint on the paper. She returned to her home in Central Java having not been paid for many months of work.
***
"It was arranged quickly through an agency and I had a contract after one week and then I left. But I was not allowed to read the contract. I was only told what it said and then I was asked to sign it. When I tried to read it, the agent said, 'No, there are lots of people waiting, your friends are waiting, just sign here.' I was disappointed I couldn't read it. I did insist, but he said, 'You don't have to. As long as you do your work nicely, you don't have to concern with this kind of thing. Sign and do your work.'
"I was fine with the work. I'm healthy, I can do all the work. I didn't know much about domestic work. I had heard stories about Indonesian women working in Saudi but I didn't pay attention to them. I just heard lots of women in Saudi ran away from their employer. I heard nothing about physical or sexual abuse. I knew the kind of job I would do but, I was confused why the contract was for Saudi because I would work in London. They told me, 'Your visa will be obtained in Saudi and that's why the contract was for Saudi.
"I flew to Saudi with the employer; we went to Jeddah. I spent one month there to wait for the visa to London. I signed two contracts: one for Saudi while I was in Jakarta. Then in Saudi I signed another contract for London. The salary in Saudi was to be 800 riyal for the month and in London it was to be 2,800 riyal (around 7 million rupiah) a month. I flew with the family to London.
"The family was nice. No problems. I woke at 6 a.m. and finished at 7.30 p.m. I had no day off but I was free to do anything in the house after the children had dinner. I could use the laptop and play games. I had no money for things because they bought me what I wanted. The employer gave me a phone after I got angry and said I have children in Jakarta. Then I could call my family when I wanted. There was just one thing. Every time I asked for the salary they didn't give it to me. I had to send money to my children. They said, 'Tomorrow, tomorrow.' Even when I was angry, they wouldn't give it to me. 'Later, later,' they said. In London it was the same thing. After five months, they transferred 1.5 million rupiah (less than 800 riyal) to one of my children. They didn't tell me how much they transferred.
"I could only go out of the house to take the children to and from school. I wasn't allowed to talk in English with Londoners; I was only allowed to speak Arabic. They kept my passport. I was afraid to run away because Europe is so far from Indonesia. I was afraid something bad would happen to me. I thought it was better to stay there until I can go home because I wanted to see my children. I didn't know there was an Indonesian Embassy in England.
The diplomat slapped her
"After two years they went back to Saudi. In Saudi I said I want to go home. I asked for the salary and they said, 'Okay tomorrow.' They did transfer money several times to my family; all together they transferred 15 million rupiah. I wanted my full salary. The day after, at around 2 p.m., the diplomat employer and his two brothers took me to the bedroom and locked the door. They wanted me to sign a paper with my thumbprint that said I had been paid. I refused. The employer said, 'Why won't you do that?' I said, 'I haven't been paid my salary yet.' The employer said, 'We already gave you food, we already gave you shelter, we gave you clothes and we already gave you some money. No more, that's it. That's enough.' He said, 'I'm not going to pay you—you go home. And he slapped me three times. All three of them hit me at the same time. One of them held my arms. After I was slapped, I fainted. While I was half conscious, on the floor, one of the men sat on my lap. The other man grabbed my arms. The employer forced me to thumbprint the paper. They were saying we will kill you if you don't sign it.
"I don't want other people to feel like this. If I didn't sign that paper, I'm convinced they would kill me. I screamed, 'Don't kill me, I have four children.' They just kept quiet. I had already signed. I really believed I wouldn't get to Indonesia if I didn't sign. Their eyes were scaring me. They were red and very angry."