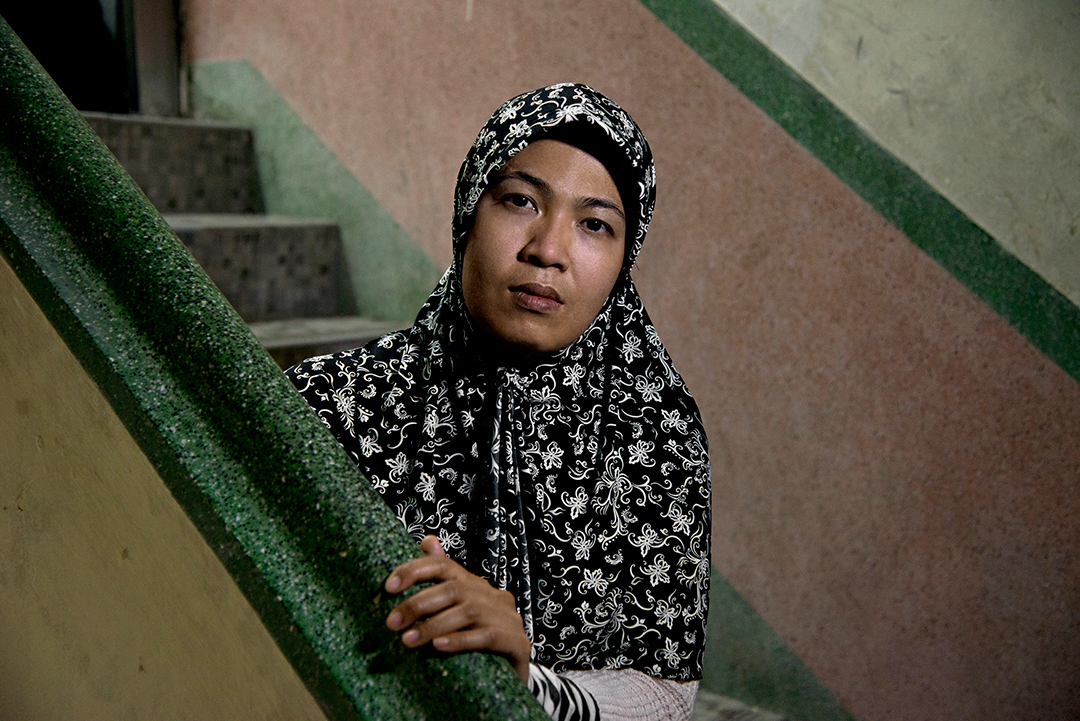 Wed at 14 in an arranged marriage in Indonesia, Siti had a baby when she was 15. A year later, she went to Saudi Arabia as a domestic helper. She worked for three families in six years' time, each for two years and then in Oman for one year. She went on to work in Singapore, Taiwan and Hong Kong. Siti ran away from her Hong Kong employer and the agency, which she discovered from the Indonesian Consulate was operating illegally. Her employer had taken her to China, illegally, and then left her there with another family who eventually brought her back to her agency. When the employer returned and wanted her to go again to China, she said no. Her agency told her she must do whatever the employer asks. Although she was verbally abused in the Middle East as in Hong Kong, she found her Hong Kong experience to be the worst. Yet, she cannot afford to leave and is desperately looking for another employer in Hong Kong.
***
"The job is nonstop. You have no rest. You wake at 6 a.m. and work until 2 or 1 a.m. and then go to sleep. At Ramadan, there is no sleep all night. You sleep at 7 a.m. until 10 or 11 a.m. From the airport, the employer picked me up. I don't feel safe, nobody knows where I am. Anything could happen to me and nobody knows where I am. I could only send letters to my husband. I had no telephone.
"I ate mostly bread and rice. It was not enough with the job. Lunch was rice and some vegetables but it's the leftovers—what they don't like they give me. I had a small storage room with a mattress on the floor. I used the guest bathroom. The Arabs change their clothes three or four times a day and you have to wash and iron all the time. All the female employers treated me badly because I'm a helper. They see that people like me have no power, have no money. They look down. No pity, only looking down.
"In Oman it was so bad I couldn't finish. The man boss liked me. The wife was jealous with me. He tried to kiss me. I don't want to. He said, 'I want to kiss you, I want to sleep with you.' He would grab my hand and pull me into the room and I fight back and I'm crying and crying. I ran."
You are stupid. You are a dog.
"I said to the wife in Oman, 'Your husband is no good man, very rude.' She's very angry at me and slapped me. 'You're a doggy.' She would say, 'Come here, dog. Come here. You are stupid. You are a dog. Helper come here.' It was very no manners, very rude. With other people she was very proper and spoke with a good voice.
"I went back to Indonesia for six months after those seven years. But I stayed in the agent's office. I don't want my daughter to see me because I had a very bad story. I look so tired from the very hard work. I went to Singapore hoping it would be better."
"I worked for a Chinese family but broke the contract after one year because the children were too difficult. Then I worked for an Indian family for two years. They were very good, they showed a lot of respect to me. They gave me time to rest, public holidays and gave me one week off each year and one day every week. They loved me. The children said they love me. The grandmother loved me.
An illegal shift to China
I wanted to improve my English and decided to go to Hong Kong. I worked with a family that had five domestic workers. A month after I started, the family took me and two other workers to Shenzhen, China. There were three apartments for the children. The husband lived most of the time in Dalian, further in China. When the children were on holiday from school we went to the father's house. It was another city by three-hour flight. I had two houses there: the boss' house and the friend of the boss. I never said I don't have visa. I know it's illegal but I have no power to talk to them. There is no one to contact. Nobody can help me there. It's not safe. I was scared.
"Every day it was not nice, from the beginning. I thought, 'I don't care if you not nice. I work, you must pay. You nice, not nice—I don't care. I'm in China and nobody can help me. I'm new here but I don't know the way. I have number for the agent but in Hong Kong, I'm in China—I have no SIM card. I'm really afraid.
"The employer was not nice. She would call me 'stupid woman' or 'crazy woman'. Maybe I don't make the bed to her liking. If I cut the fruit, the size is not like she wants. She would shout at me, very angry. At night, at 12 a.m., she would call me to wash a small cloth. If I don't go fast enough, she is very angry. Sleeping clothes, new clothes, underclothes I had to wash by hand. And iron. Very little was washed in the machine. She's rich but she wanted to save money.
"For breakfast, what they eat I eat. But if there is no leftover I don't eat. For lunch and dinner it's the same—if no leftover I no eat. If Mam not come home, I cannot eat. I can't take any food first. I can't eat before the boss eats. Sometimes I take a biscuit. If I'm hungry I eat a little. If I take food—ooooooo she would be very angry. Then she finds a reason every little thing I do is wrong. So I prefer to be hungry. If there is a biscuit or a lot of fruit, if Mam can't tell I've taken something, then I thief. And I go to the toilet to eat fast, fast, fast because there are cameras in every room. If the Mam goes out, I go to the toilet and take a rest. It's the only place with no camera. I'm not sure but I think she watched me through the camera on her iPad.
"She sent complaints to the agency about me. She took a picture of my bed and sent it to the agency saying I'm not clean. The agency would call me on the house phone and say I don't do this or that.
"I was in Dalian two weeks and then the lady and two younger sons and driver went to America. So she sent me to a friend's house. I was there ten days. It was a family with two children, very naughty children. They played and made the house a mess constantly. Then the friend took me to Macao and we stayed in a hotel for three days and then they went to America also. They told me to go to my agency. Then the agency sent me to work part-time. I worked five days with one son and a dog. I lived in there and was paid HK$715 for five days but the agency took it.
"My employer came back from America and the agency sent me to the employer's house in Hong Kong. After one week the employer came and wanted to take me back to China. But I don't want to go. It's not safe for me. The Mam said, 'If you don't want to go to China, then you go back to Indonesia.' So she terminated me. And till now she has not paid me.
An illegal agency
"I asked, 'Where is my salary? Where is my holiday pay? The lady said, 'I gave your salary to the agency already. You go to the agency and get your money.' I go to my agency and they said they were not paid any money. 'Better you go back to the boss house and ask for the money. They don't offer to help.' I said, okay, I go to house but I will bring the police. They said, 'No, no, no, you don't tell police. You can sleep here.' They told me, 'This is your job. It's up to the boss if they want to take you everywhere. You must follow.' I know it's not right. I have a visa only for Hong Kong. I must follow the visa. I said if you don't help me, I will find another employer in Hong Kong. They are thinking only get money.
"I wanted to find another boss. But the agent said I must go to Indonesia because she terminated me. I went to the Consulate and someone there told me that my agency is illegal. That's why I ran to the shelter."
My full salary was HK$4,010 and I had to pay HK$3,000 a month for six months. The agency said I must also pay HK$1,000 for three months plus the medical check-up, documents, etc. but the boss paid that. The reason I had to pay I don't know."