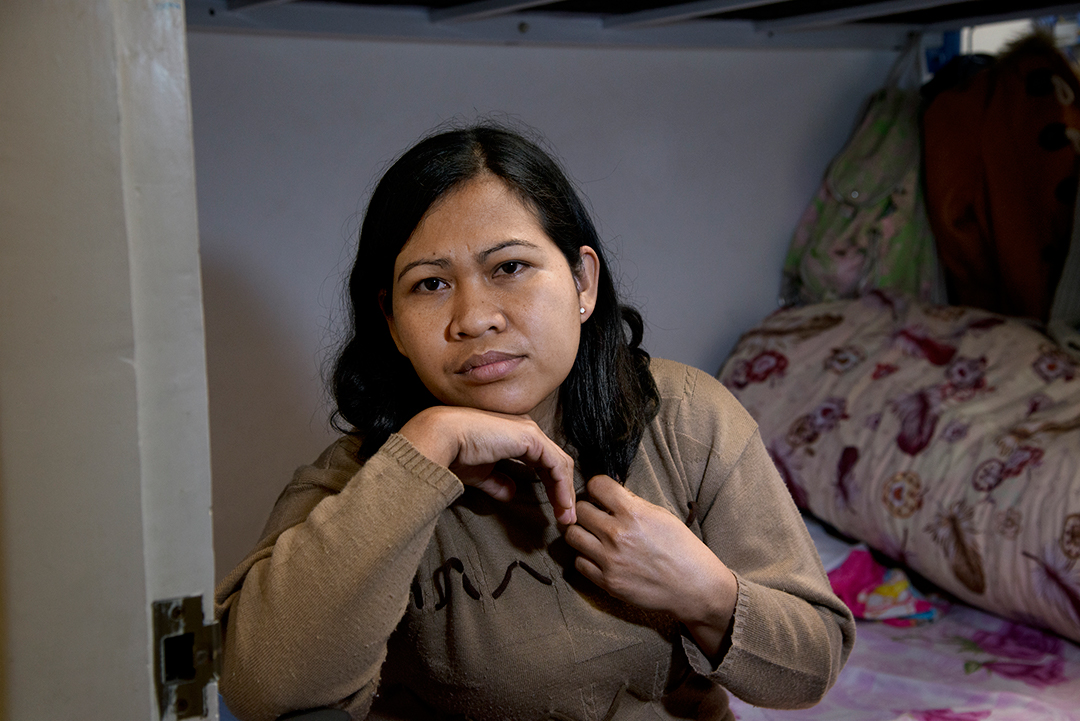 Suwarni had been to Qatar before Hong Kong and though it was hard work in a family of seven children she thought it a good experience. She says she was treated with dignity there. In Hong Kong, where she thought she would earn more income, she encountered very different treatment. She ran away from her Taiwanese employer, who lived in Hong Kong, after the first time she shoved her out of fear that the physical abuse would get worse. Even before the woman employer touched her, Suwarni felt she was treated like a slave. She lost 15 kilos because she sometimes had nothing to eat. Her labour case has been resolved and she hopes to leave the shelter where she has lived for the past two months to find another domestic worker's job in Hong Kong. She does not want to return to her home in Indonesia just yet because she still needs to repay money borrowed to finish building a home that replaced the ramshackle one that leaked when it rained and left her ageing parents more vulnerable to illness.
***
"I first went to Qatar and had a good experience. I was there three years. I was only paid 700 riyal (US$186). It was not enough to cover school fees. The employer's family is many—seven children and two parents. There were four helpers. The employer bought me clothes every three months. Both parents were nice to me.
"In Qatar there is different system than in other countries. I stayed one day in the agent's office and the employer picked me up there. After that, the agent washed their hands of me. I didn't even know the telephone number of the agent. There is an Indonesian Embassy there but I had no telephone number for it. I had the agent's telephone number but I never needed it because the employer was so nice. Almost all domestic workers give their passport to their employer. The agent told us that. Now I know it's illegal.
"It was hard work. My work time was from 6 a.m. to 11 p.m. I would send the children to school and then come back and take a rest. Then from 9 a.m. I worked until the evening. I prepared the breakfast and then the lunch. At 2 p.m. I fetched the children at school, gave them lunch, cleaned the kitchen and then prepared for the dinner. The whole time I stayed in the kitchen. I was always cooking—making cakes, making sandwiches and snacks. The children were many, so there were different helpers.
"In Hong Kong it was very different treatment. I've been here only five months. My employers were Taiwanese people. In my contract it says four adults and one child. Instead, I stayed with the son, his wife and their 9-year-old child. The husband came home once a week. Sometimes he was in China, sometimes in Taiwan.
"The house was very big. I woke at 6 a.m. and went to bed around 10 or 11 p.m. I took the child to school, did the marketing and cleaned the whole house. I needed to regularly clean the cabinets one by one: clean each plate and glass and that takes time."
Not enough food to eat
"The employer didn't provide enough food. Sometimes the employer gave me only bread in the morning but it was old. I don't want to eat it, and I threw it away but she would get angry at me. For lunch I had instant noodles, but sometimes I had to buy it. If there was leftover dinner then I might get that to eat. When I arrived I weighed nearly 70 kilos and when I ran away I weighed 55 kilos. Sometimes I can't eat because there isn't enough time. I have to clean something. The employer was often drunk by the evening. She would shout at me and point her fingers on my eyes like she wanted to poke them out or like she wanted to slap me.
"In the first four months, she was not so angry. By the fifth month she was getting angry so much. This Taiwanese woman did not treat me like a human but like a slave. She said she could do whatever she wanted to me. We moved to a smaller apartment after four months. I still had to clean the other house. I did that for around one month before running away. I ran away because the employer got angry at me, shouting, pointing her fingers at me, then she pulled my hand really hard and pushed me into the sink. I was washing the plates. That was the first time the employer touched me. I kept thinking if the employer dared to touch me now, I'm afraid she will get worse and will do more than just pull my hand or push me and I was scared for my safety and decided to leave.
"In the first four months, I had only a day off once a month. The employer changed in the fifth month to one day off a week when another worker arrived."
Easy for employers to terminate, hard for workers to leave
"Here in Hong Kong the employer can easily terminate a contract because of simple things, like cleaning problems or language problems. Why not slowly teach the worker about the work? To terminate, the employer can give any reason. But if the worker wants to terminate, she has to give a really good reason, like abuse, so the Immigration authority will approve a new visa to work for another job. The new policy says that if a worker is terminated three times in one year she won't be given a new visa. She can reapply for a new visa but she has to exit Hong Kong, go to Indonesia or Macau or China. It's really terrible. We need lots of money again. While working for six months, you still have to pay the agent and then you have to leave and it takes money. Of course the labour law makes Hong Kong better than other countries. But still, it's not fair enough. In Hong Kong you have the labour law but many workers don't know their rights. Many employers don't know about the labour law. The agency should tell me about my rights or what I should do if there is a problem.
"Both parties have to know about their rights about the law—what they have to give to the workers and what the workers have to give the employers. If there is no labour law, the domestic worker has no rights. We are workers as well and we are human, like the employers, and they can't do whatever they like to the workers.
"In the Middle East, many employers treat the workers like slaves because they think they buy them. My employer treated me with dignity. Here in Hong Kong I don't feel I have dignity as a human being. Even in Qatar, the employer taught her children to respect me as a worker and as part of the family. But here, the employer never told her daughter how to respect me but she told me to treat her daughter like a baby."