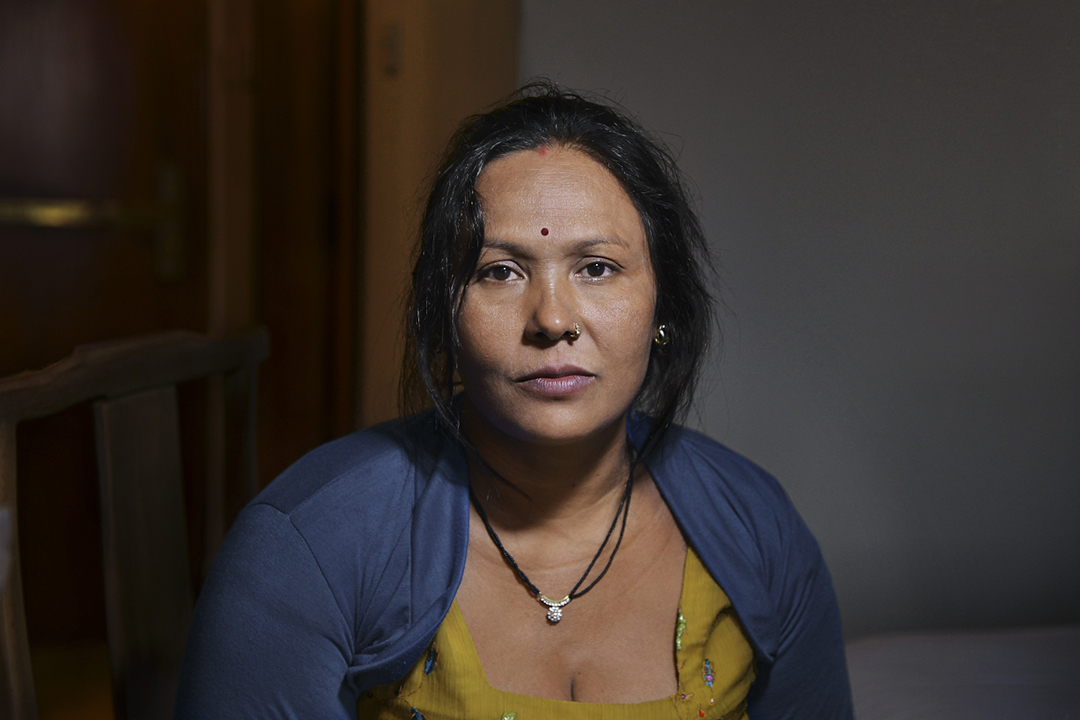 While in Kuwait, Rita was 'sold' from one employer to the next, each one covering what an employer pays to an agency when hiring a domestic worker. She had gone to the Middle East from her home outside Kathmandu with the hope of building some savings for her old age. In the first house where she was placed in Kuwait, she was nearly starved while made to work 18-hour days without pay. Once the employer spat food on the floor and told her to eat it. Police found her wrapped in a cloth in front of the house where she last worked, with cuts across her legs and back. She had opened the apartment door early that morning and saw a man in a white robe. She didn't see his face before something was sprayed into her eyes. She refused to accuse the one she suspected because she wasn't certain who actually attacked her. She wanted to go home but the Nepalese Embassy officials wanted her to name the abuser so that she could press for compensation. She left without accusing anyone and without compensation and struggles with the medical care back in Nepal.
***
"I was doing unskilled labour, carrying bricks and some domestic work. I realized it would not be enough to have savings for old age and I thought my kids would not take care of me. I went abroad so I could have something for my old age. I have four daughters and one son. The daughters will marry and go off. My son is 19. I was married at the age of 14 but my husband left us long ago. I thought if I went and worked for two years I would have some savings and be able to look after my children properly.
"My brother-in-law was in the manpower agency. The cost would be 70,000 rupees, but he said I could pay him back when I returned. I made my passport myself and I requested Dubai. They changed me with someone else and sent me to Kuwait. In Kuwait, the employer said, 'This is not who I requested' and they rejected me. I sat at the employment agency until they placed me at another house.
"The family had four and a half stories and I had to wash every day all the floors. And there were piles of dishes. They were 12 people living there. But they had a lot of daughters who would come with a whole bunch of kids. I would wake at 8 and go to sleep at 1 or 2 a.m. I had no day off. I was supposed to be paid 12,000 rupees but I was never paid. I had to sleep in the bathroom. But that first family gave me a proper daal meal twice a day with meat.
The son would show me pornography when no one else was in the house. I only worked there ten days. I had a high fever, so the employer took me back to the agency."
Sold from employer to employer
"The first family sold me to the second family. I wasn't paid there either. I received no pay in any house. The first month pay goes to the agent. They paid it to the agent and then the agent sold me to another family. That means I owe the employment agency 150,000 dinar.
"Then the office placed me with an old lady who lived with two sons and a daughter. At first, the son who brought me to work would tell me to cook rice and daal, but the mother never let me. He said, 'You're from Nepal, you will want rice and daal and here it is.' But the mother wouldn't let me have it. The daughter couldn't stand me. She would say workers in the house shouldn't go to sleep. She would have me constantly cleaning the house through the night. The daughter would sit and watch me all the time; she didn't work. She was about 35 and not married.
"I was the only worker. I don't know why they are that way. Even though I wiped until my shoulder hurt, she would rub her finger on something and say, no, it's still not clean. I don't think she liked having other people in her house. They didn't have anyone before me—I was the first domestic worker they had had.
"I was told I could eat the bread that was in the fridge, so I had tea and bread. When they eat rice, it would be put in a cloth or paper; whatever was left, I would gather up and I would take it into the bathroom and eat it with the tap water. The sons would tell me to eat the rice that had fallen to the floor. Otherwise, the rice I could eat was what was stuck on the pot and that was all I had other than the bread, if it was there. They didn't cook rice every day. I couldn't eat anytime, it wasn't always there. They would cook potatoes in a bit of oil and eat with rice and bread. I never saw them eat more than that.
"I stayed there 23 days. I wiped off all the shoes, washed the clothes and cleaned the whole house. I had to wipe so much my shoulders would swell. I used to be giddy because I was hungry. I would steal a little bit of rice from the fridge and go to the bathroom to eat. I cried so much in the bathroom. The woman's husband came twice in the 23 days I was there. Once, he threw some food on the floor for me to eat and said, 'The old lady won't give you food to eat so you can eat this.' Some of it he had already chewed. I was expected to eat off the floor. I picked it up and threw it in the trash.
"Three days before that, another one of the sons was in the house and he was playing with a laptop and said, come see some pictures about Nepal. I got interested and he showed me about trafficking of Nepali girls. Then he touched me and said, 'Come to my room.' It was frightening because there was no one in the house and I pretended I didn't hear him and went to the toilet and started cleaning it. Eventually the old lady came home."
Found on the road, wrapped in a cloth
"A few days later I couldn't sleep at all. I lay down on the kitchen floor. There was a small carpet place. I couldn't sleep there either. But I was told I needed to wake at 7 the next day. When I woke, no one was in the house. I thought the father went to the shower. I saw two pairs of shoes. I thought I would put the shoes outside the door. When I opened the door, there was a man standing there. I was looking down. I didn't see who it was. I was making a way for him to walk in but something was sprayed in my eyes. I fell forward, unconscious. I woke and I was in the hospital. My clothes were in shreds. The police had found me wrapped in a cloth outside the gate of the employer's house.
"I had on a neck brace. I slowly lifted up and I saw cuts on my thighs; the one on my left thigh had been stitched, about 7 or 8 stitches. The right side was bandaged. I had a cut on my back. I had a cut by right eye, with 8 stitches. I think maybe I was hit on with something. There was no empty space on my body—it was full of wounds. It was like a dead person coming back to life. My lips were swollen. I had nail scratch marks all over me. After seeing all the wounds, I lost consciousness again.
"When I woke again, the police were there and had brought some Nepali people to understand what happened. I told them I was unaware of what happened. They said I must get some compensation. The old lady, son and daughter took me to the airport. I was still with shredded clothes, blood-stained, no shoes and I was very thirsty. The daughter said there is no water. They got ice for me. Then the old lady told her son and daughter to change my clothes. He put on a pair of shoes for me. There were two people from the Nepali Embassy for someone else and they saw me and asked what happened. I told them I worked in the house and then found myself in this condition and I had no idea what happened.
"The Embassy people took my ticket and passport and wouldn't let me leave. The son and daughter said we had nothing to do with this. The Embassy officials said, 'We'll take you and you stay with us for a few days.' It was really crowded. But they thought I was the worst of them. The people at the Embassy said I have to get some compensation and to tell the police someone in the family did this to me.
I couldn't make a false accusation
"I went there to earn some money so that I could look after my family, but I couldn't identify anyone because every man there wears white from head to toe and I couldn't honestly identify someone and I didn't want to make a false accusation and make someone else suffer.
"I remembered the man had a beard. But the father and the son both had a beard and I couldn't say which one it was. Everybody got angry with me at the Embassy, even the officials. I was scared and wounded in every place and I understood it was impossible for them to do anything if I didn't identify someone, and I knew they were doing this for my own good.
"I went through so much and I didn't manage to do anything for my children. I have since heard mostly negative experiences from working abroad. Some domestic workers return with broken limbs, thrown from rooftops; some become pregnant there and they're looking after the children. I feel most have a negative experience. From here you cannot do anything to better protect women. You can prepare the people, but you never know what kind of family you're going to get there."